An Iceland campervan rental is hands down one of the best ways to see our beautiful Nordic island. We are blessed with the natural beauty of mammoth glaciers, powerful waterfalls, bubbling hot springs, and more. And when deciding upon the best vehicle for your trip, an important question pops up. Do you need to have a 4×4 camper rental in Iceland? There are a few factors to consider when making this very important decision. It's one that will affect your trip, your itinerary, and even driving safety.
4×4 Campers and Your Iceland Itinerary
At the end of the day, whether or not a 4×4 camper van rental in Iceland is right for you comes down to one thing. Your itinerary is going to dictate whether or not your camper rental needs a four-wheel drive, pure and simple. If you plan on visiting the Highlands at any time during your road trip, by law you have to have a special vehicle. This is because Iceland's wild interior has a special type of driving paths which are called F-Roads. These mountain roads are unique and that they're made entirely of gravel.
They can be a bit tricky to navigate, especially for first-timers. This is why you'll need to have either a 4-wheel drive SUV or an Iceland 4×4 rental camper. The small stones and pebbles that will be crunching beneath your vehicle make it easier to slip and slide. You're going to need as much traction as possible while traversing these roads.
You also want to be sure that you get Gravel Protection (GP) insurance to protect against any potential damage. Flying pieces of rock, either from yourself or other drivers, can easily dent or scratch your rental. And after all, you don't want to be punished just because Iceland's inland roads are rough.
Please note that the roads to access the Highlands only open during the summer months. They vary depending upon when they are deemed safe, but almost all are passable by July. If you've got the time, I highly recommend visiting this part of the country. With its untouched landscapes and unspoiled nature, the beauty of the zone will take your breath away.
But the Icelandic Highlands are not on everyone's itinerary. Unfortunately, we don't all have the time spend multiple days there. You might just prefer to drive around the island instead. If you plan to experience Iceland solely by driving around the Ring Road, then it's possible to rent a camper with only a two-wheel drive. Of course, this also has an exception which depends entirely upon personal preference.
Iceland 4×4 Camper Van Rental in the Winter 
The second scenario in which you might want to consider a 4×4 camper in Iceland is if you are traveling here in the winter. From November through March (and sometimes April), you'll find snow on the ground and can often get caught in inclement weather conditions. If you're not used to driving through icy, slushy, snowy roads, you might want to consider a vehicle that gives you more control.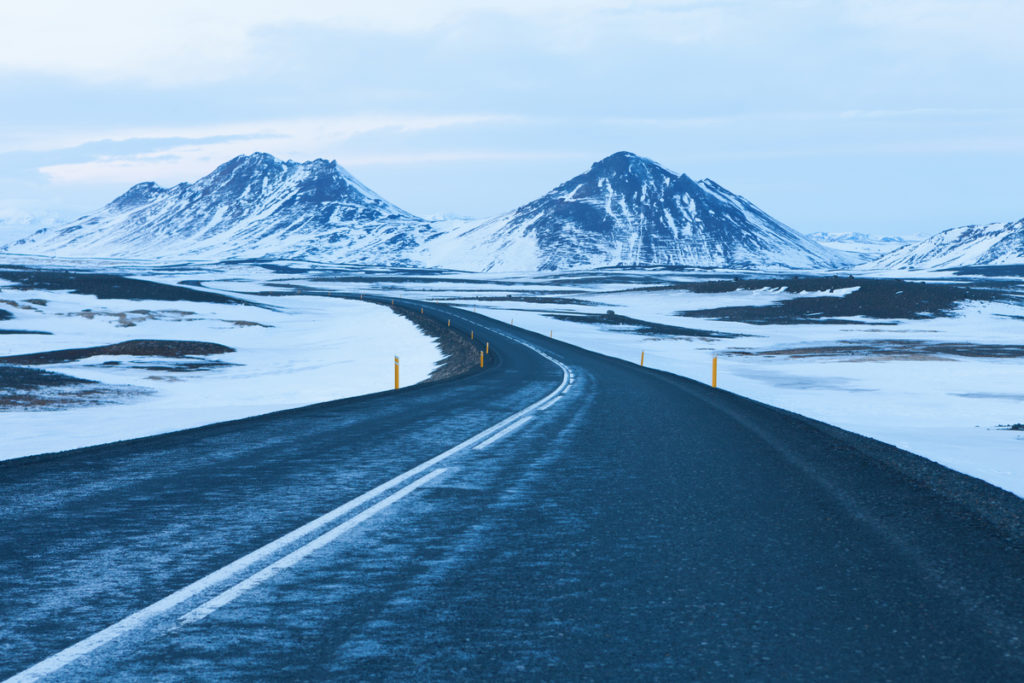 Having a four-wheel drive will not only help you to steer better, but also comes in handy in case of dangerous driving conditions. If you hit a patch of black ice and start to skid, you'll be able to get things under control much faster with a 4WD than with a 2WD.
Iceland Camper Rental Advantages
Saving money is probably one of the biggest benefits of Iceland camper rental. This is a small, expensive island, so it's no wonder that so many people opt for a home on four wheels. You save money with an Iceland camper no question.
With camper rental versus car rental and hotel, there's no comparison. Even though car rentals are more fuel-efficient, a camper van is cheaper overall. In a place where hotel rooms can start between $120 to $150 per night (107€ to 133€), just the savings on accommodation alone are enough to convince people to choose a camper in Iceland.
And it's even better with a 4×4 camper, because you can explore Iceland's inner territory. Accommodation like the famous Icelandic mountain huts is booked up months in advance. It's also not quite as comfortable as sleeping in your bed in the back of your camper. This is the perfect area to go on a Northern Lights excursion. You'll be so far away from civilization that there's no danger of light pollution obscuring your views of the Aurora Borealis.
Camper Van Rental in Iceland: 4×4 Models Available
Let's say you've decided to go for it and make your camper van rental in Iceland a 4×4. There are plenty of different options available for camper rentals. There are some models available here and Iceland that you can't rent in other countries or other continents.
The VW California 4×4 is a beloved model that embodies the free spirit of flower children of the 60s. It's that same sense of adventure that attracts many travelers to Iceland.
You can also get a Mercedes camper van rental with a Mercedes Marco Polo 4×4. This model comes with an expandable roof tent which allows extra space for passengers. You'll feel like a kid going camping all over again.
The VW Transporter 4×4 is another wonderful option that is suitable for F-roads. It's spacious and has the perfect camper for navigating Iceland's diverse and varied landscapes.
There are also larger models such as the VW Crafter 4×4, which seats and sleeps five. It's great for families and for large groups of friends that want to explore the Highlands and beyond.
The model that you choose depends entirely upon your travel preferences and the size of your party. That being said, the wide array of options means there truly is something for everyone. Whichever camper you choose, you are sure to have a great time and make lots of memories. And isn't that the whole point of an Iceland camping trip?
Is a 4×4 Camper Rental in Iceland Necessary?
Camper rental in Iceland is a fun, easy, inexpensive way to experience everything there is to see and do on our volcanic island. Getting an Iceland camper 4×4 rental will give you the freedom to roam and get off the beaten path. It also gives you peace of mind during hazardous winter driving conditions.
Remember that you will need to have a valid credit card both at pick up and drop off. This serves as a guarantee on your rental. Double-check with your rental company, but they usually do not block in a specific amount on your card. Rather, it's used as a backup in case there are any damages which are not covered by your camper rental insurance. Make sure you also go the speed limit, because any speeding tickets or fines that you rack up can also be charged to the card.
As long as you drive safely, stay smart, and obey the rules, you'll be fine. Also, be aware of pick-up and drop-off times and locations for your camper. Some companies are located just outside of Keflavik Airport, while others are in Reykjavik city center. The offices are not necessarily open 24 hours, so make sure you have enough time within their window for all of the things you need to do.
Iceland24
© All Rights Reserved