A trip around Iceland's Ring Road is unlike anything else you will experience. The stunning landscapes and unique scenery are out of this world. Iceland is a wild, rugged, unpredictable place, and things will be different than what you're used to. I'd like to cover my top nine tips and advice for travelers visiting this remarkable island for the first time. The last thing I want is for you to be caught off guard by a rogue sheep or overpay for alcohol. Focus instead on cool activities like glacier hikes in Skaftafell or standing in awe at the foot of Seljalandsfoss waterfall. So to prepare you and hopefully avoid any nasty surprises, here are my top things to know when taking an Iceland road trip.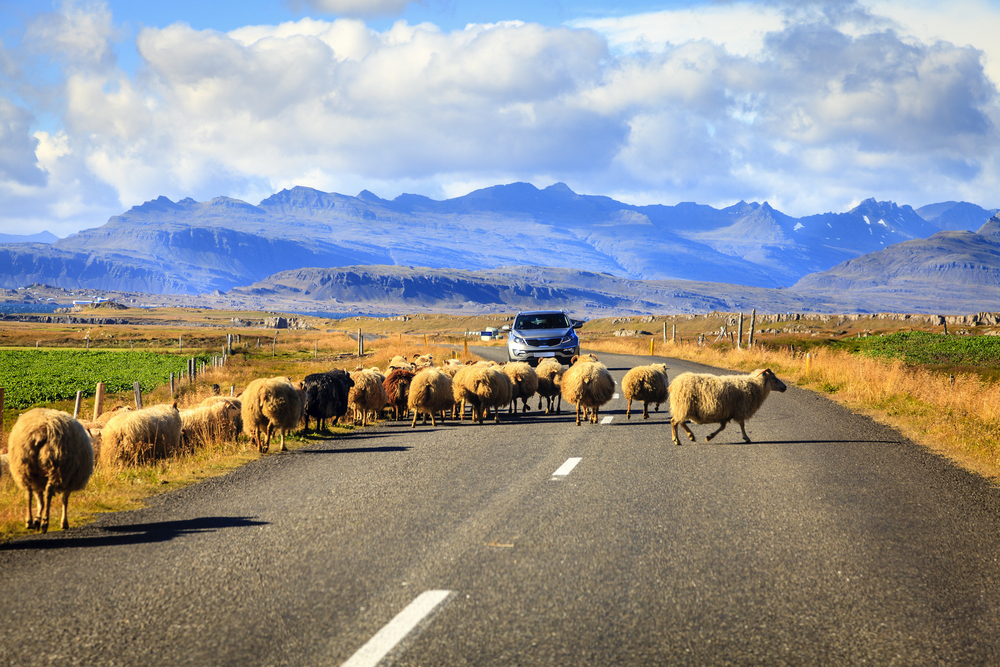 #1 The Sheep are Out to Get You 
No, seriously. Our adorably fluffy little friends never quite got the memo that darting out into the road is dangerous, especially when cars are around. A more passive form of protest is when they organize collectively and decide to block the road en masse. Be very careful when driving in Iceland, especially at night. Stay alert and keep your eyes on the road. I'm not exaggerating when I say that people have been seriously injured and even died due to car accidents with sheep.
#2 Rental Insurance Here is 100% Legit
Speaking of collisions with animals, there's something else you should know about Iceland. It's not just the livestock that is conspiring to get you. Sandstorms, ash storms, hail storms, snowstorms, high winds, and other natural hazards are simply par for the course when driving around Iceland's Ring Road. Did you know your windshield can be damaged by icy gravel flung at you from the speeding tires of an oncoming car? Don't even get me started on black ice and the havoc it can wreak. Protect your rental vehicle from the road (and other drivers) by getting the full insurance suite of Gravel Protection, Sand and Ash Protection, and Super Collision Damage Waiver. In most places, it's considered an upsell, and rightfully so. But in Iceland, it's a necessity.
#3 The Next Gas Station is Over 100 Miles Away
Sound crazy? Just remember this: some parts of Iceland are very remote. Like Mordor remote. So while it's easy to find gas stations in more populated areas like Reykjavik, when you're driving somewhere like the Westfjords, maybe not so much. A good rule of thumb when driving in Iceland is to fill up your tank early and fill it up often. You never want that dreaded feeling of seeing the fuel indicator inch toward the red zone and not knowing if you'll make it to the next gas station before hitting E.
#4 The Wind Can Blow the Doors Off Your Car 
File this one under "Wait, really?!". Yes my friend, really. Many a car door in Iceland has been blown backward or taken clear off its hinges due to powerful winds. Unfortunately, insurance doesn't cover this one. What's wrong with those guys, right? It's just a little car door repair. You'll have to take matters into your own hands here, literally. If you absolutely must get out of the car in high winds, grab the door firmly with both hands and hold it steady the whole time. And even if it's not that windy, never leave your door ajar. A strong, sudden gust can come along and catch you and your poor, unsuspecting door off guard.
#5 Campervans are the Best Transport Ever
Something that might catch you by surprise (other than the wind) is the number of campers you see on the road here. I'm going to let you in on a little secret: Those people know just how cheap it is to travel around Iceland by campervan. Not only do you save money on extremely expensive hotel rooms each night, but you also have a portable kitchen with you at all times. Being able to cook your own food is a huge benefit while traveling in Iceland. The money you spend on accommodation and eating out while here will take huge bites out of your budget. Kill two overpriced birds with one stone and enjoy the freedom and flexibility of renting a campervan. Make sure you've got a good Webasto heater to keep you warm at night, and you're all set.
On a related note, I recommend buying as many groceries as possible at one of Reykjavik's discount supermarkets like Bonus or Netto. They have them in some larger towns, but it's easier to do all of your shopping before heading out of the capital. Don't leave things to chance.
#6 You'll Save a Ton of Money if You Go in the Fall
Who doesn't love saving a little money? As my dad likes to say when something is free, "Well, the price is right!". Not only is autumn one of the best times to go to Iceland because of nice weather and fewer crowds, but you also get tons of discounts on stuff. Oh yeah! Everything from car rental to accommodation costs less. And if you go later in the fall, some of the campsites are officially closed, but leave their gates open. Some travelers have reported going in October or November and staying at campsites for free. Another bonus of going in the fall: the spectacular Aurora Borealis. It's not visible in the summer. As you sit back and enjoy the gorgeous natural light snow in the sky, you can sit back and bask in how much money you saved today.
#7 Duty-Free is Your New BFF 
If you are of the beer and wine drinking persuasion, I'm going to give you a little tip. Never, ever pay full price for a drink at a bar in Iceland. Unless of course you want to blow your entire food budget for the week during your first night out in Reykjavik. With beers starting at $10 a pop and wine at $12, it's easy to see why most Icelanders pre-game and drink at home before heading out for the night. So what's the secret to combatting Iceland's high taxes on alcohol? Load up at duty-free in the airport, where prices are around 30% lower than what you'll find out and about. You can also find one of the state-owned Vindbudin liquor stores and stock up. Note that they have limited opening hours and are closed on Sundays.
#8 You Should Bring Waterproof Everything
People tend to assume that Iceland is, well, icy. While we do have our fair share of snowfall, our little Nordic island is actually quite wet and windy as well. You'll want to keep the chill out by investing in warm, moisture-wicking underlayers like merino wool and insulating fleece. Top it all of with waterproof hiking boots, waterproof pants, and high-quality rain jacket. The only thing worse than being wet is being cold and wet. Iceland's massive amounts of precipitation give you ample opportunity to be both, so be smarter than the weather and come prepared. This also goes for bringing waterproof covering to protect devices like your camera and cell phone.
#9 Not All of the Roads are Open All Year to All Cars
This last bit of info is twofold. First, if you plan driving inland, in the mountains, or in any part of the Highlands, know that they are only open in the summer months. Melting ice and dangerous road conditions make these parts of the country impassable most of the year. If you have your heart set on hiking Landmannalaugar and the Laugavegur trail, it will have to be when it's warm outside. Second, if you want to drive on mountain roads (F-roads), you need to rent a 4×4 vehicle. I'm not saying this because I think it's a good idea; it's actually the law in Iceland. If you plan on only driving the Ring Road, you're fine. But if you plan on going elsewhere, make sure the roads you want to use are accessible.
Top 9 Things To Know When Taking An Iceland Ring Road Trip 
I hope these tips are helpful if you're a first-timer in Iceland! Let me know if there's anything you would add to the list. Iceland is great, but you need to know what to expect before you go.
Iceland24
© All rights reserved