Camping is one of the best ways to see Iceland and save money, especially during the high season of summer. Hundreds of thousands of visitors come every year to get back to the elements and enjoy time in nature. Whether you've decided to rent a car, motorhome, or campervan, doing some form of camping in Iceland is a great idea all around. While it's possible to bring your own gear, the majority of people actually rent the camping equipment for their trip. This may come as a surprise if you've never done it, but I can assure you that it's perfectly normal. So normal in fact, there are multiple locales where you can rent camping gear all over the island. We've got a list of some of the best places to rent camping equipment in Reykjavik as well as things to keep in mind and the benefits of renting gear.
Renting Gear Versus Bringing Your Own 
The first question that comes to mind is why you should rent camping equipment instead of bringing your own. It's true that there is something to be said about having your tried and tested gear with you on your Iceland camping trip. But something important to keep in mind is that many things are different in Iceland, especially weather conditions. The same tent that has served you faithfully on numerous backpacking trips to the mountains may be ill-suited for the snow, sleet, hail, winds, and rain of small, stormy island such as Iceland. Unless you already own an all season tent made from durable materials, it's likely that you'll need something sturdier to brave the elements here.
Another thing to factor in when deciding whether to rent or buy your camping equipment for Iceland is how much it's going to cost to bring everything with you. Extra luggage fees combined with the hassle of lugging bulky tents, sleeping bags, sleeping mats, camping stoves, and other camping equipment around the airport are enough to turn off any seasoned traveler. Save yourself the stress of wrangling with your gear by just renting it at a store and throwing it in your rental vehicle.
Things to Keep in Mind 
As we mentioned above, Iceland has extreme weather conditions. Only the most durable and well-built equipment will do when spending time in such an extreme environment. For example, your tentpoles should be made out of materials like super strong aluminum. Tent floors should be extremely well-insulated in addition to placing tarp underneath. Not only are you trying to keep out the cold and frost, but also the dampness that can seep in from the grass and dirt below. Wind is another thing to be aware of. Iceland gets very windy, and if you don't have strong tent spikes driven into the ground, you can easily get blown away.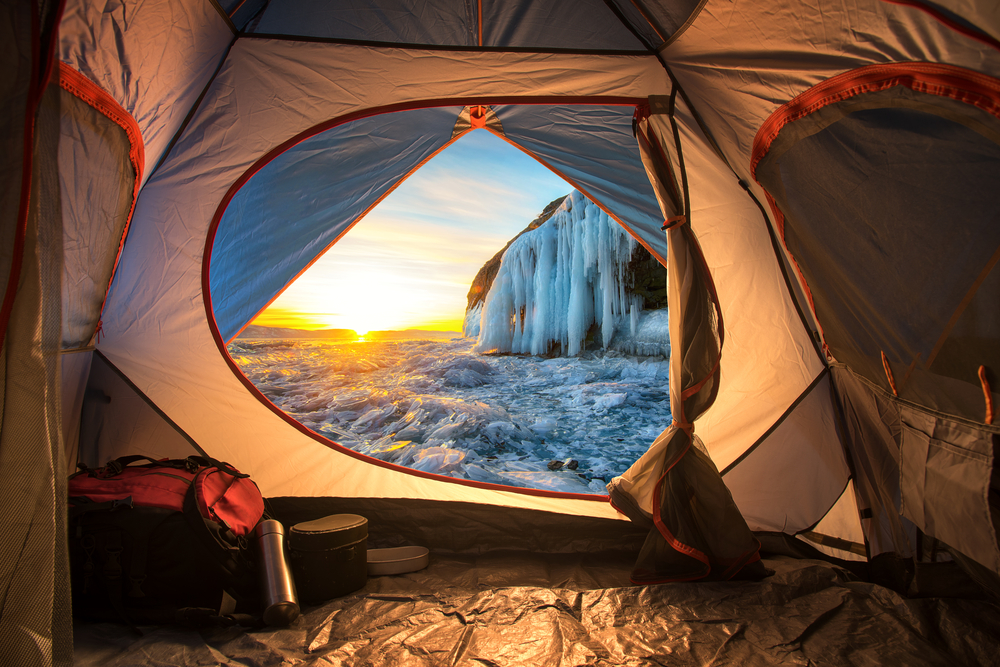 Top Camping Equipment Rental Stores in Reykjavik 
So where can you rent camping gear once you arrive in Iceland? Reykjavik has several different options for all different budgets and camping styles from budget to top quality. These stores are filled with friendly, helpful staff members who are experts at helping you pick out just the right camping equipment to meet your needs. They know how to use their years of experience and general knowledge of Iceland to give you the best advice possible.


Iceland Camping Equipment Rental 
Website: https://www.iceland-camping-equipment.com/
Address: Barónsstígur 5, 101 Reykjavík, Iceland
Phone: +354 647 0569
This is probably one of the best (if not the best) camping equipment rental stores in Reykjavik. Their wide variety of products include the standard tents, sleeping bags, camping stoves, and gas canisters. You can also get more modern camping convenience like GPS, portable Wifi. They even offer maps. Take a look at their online store to see the huge selection of products and pre-order anything you think you'll need.
Gangleri Outfitters 
Website: http://www.outfitters.is/
Address: Hverfisgata 82, Reykjavik 101, Iceland
Phone: +354 583 2222
You'll see lots of positive word of mouth online about Gangleri Outfitters, another top camping gear rental store in Reykjavik. They too have an extensive product selection and offer items both on sale and for rent. It's a smaller store than Iceland Camping Equipment Rental, but they still have a lot. You can even get some high-quality snowshoes and hiking boots in case you don't have a pair from back home.
Rent-a-Tent 
Website: http://www.rentatent.is/ 
Address: Smiðjuvegur 6, Rauð gata, 200 Kópavogur, Iceland
Phone: +354 848 5805
The name says it all. Tents are what they love, and tents are what they do best. This is your no-frills, one-stop shop to get the basics covered for your camping trip. They offer slightly lower prices on some items and are located just outside of Reykjavik. You'll want to pick up your car rental at Keflavik and then head to the small town of Kópavogur.
Fjallakofinn
Website: https://www.fjallakofinn.is
Address: Laugavegur 11, 101 Reykjavík, Iceland
Phone: +354 510 9511
Fjallakofinn or "mountain hut" in Icelandic, is a higher end camping equipment rental store. They offer not only camping equipment and accessories but clothing as well. Their store on Reykjavik's chic Laugavegur street is home to items for skiing and snowboarding as well as basic thermal pieces. If you're looking for a camping gear specific store, this may not be your best bet as the other three stores I mentioned have a much greater selection. But if you're looking for more select pieces and high-quality winter clothing, this could be a good option.
All You Need to Know About Renting Camping Gear in Reykjavik
Hopefully, this has helped you get a better handle on where to go and what to look for when renting camping gear in Reykjavik. I really do encourage you to go this route when camping in Iceland. You'll save time and money and have just the right equipment for your trip. The stores pride themselves on the high quality of their inventory, so they are sure to have just what you need in stock. Let us know how it goes!
Iceland24
© All rights reserved